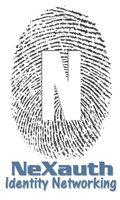 Until now, RADIUS server inflexibility has caused many network and systems administrators to make a decision with regards to network authentication. Completely change the way the company authenticates, or leave the network with little or no security measures in place.
Each option is a costly one... what is your choice?
NetSteady Communications, Ltd., a Columbus, Ohio based innovative technology firm, has developed a revolutionary product designed to combat and overcome authentication server inflexibility.
This product, entitled NeXauth, empowers businesses by giving network administrators the ability to authenticate any device, to any network, using any means necessary. The unparalleled versatility of NeXauth gives your IT staff the tools to make authentication conform to your needs, saving time, and most of all, money.
NeXauth controls the campus...

NeXauth can be used in educational environments to secure system-wide networks, allowing for authentication to any campus database, individual department files, and even registrar information. Unlimited potential allows you to meet everyone's needs, and sleep well knowing your network is safe.
With NeXauth, campus-wide network security
is at your fingertips.
NeXauth empowers the enterprise...
When used in a corporate environment, NeXauth can assist with authentication database transfers, security breach alarms and mitigation, or simply network authentication.
NeXauth is the means to a
secure corporate network.
NeXauth heats up the hotspot...

Why pay for an authentication solution which costs thousands of dollars, when NeXauth gives you the flexibility to do everything you need, and more! You can authenticate your (and other companies') users, provide real-time statistics to your investors and patrons, track site usage, and much, much more!.
Powerful software, small price.
NeXauth serves the service provider...
When you are an a Internet Service Provider or an Application Service Provider, authentication of your users is a necessity. Ensure that your network is secure, add your customer's authentication scheme, and expand your service offerings using NeXauth.
Installing NeXauth will require little to no down-time, giving you unlimited authentication potential.
NeXauth: Flexible Architecture, Reasonable Price
Read more about NeXauth with the NeXauth Whitepaper